DALDEWOLF is proud to share that Marc DAL has been included by The Legal 500 in the Arbitration Powerlist : Benelux 2022 !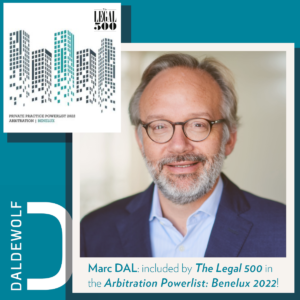 Marc is the head of the Arbitration, Complex Litigation and Mediation team at DALDEWOLF. His partners and associates practice national and international arbitration with him, both as counsel and, for some, as arbitrators. They are familiar with ad hoc arbitration proceedings or those conducted under the aegis of institutions such as CEPANI, the ICC, the ICDR, the Swiss Arbitration Centre, the UNCITRAL or the Cour Commune de Justice et d'Arbitrage (CCJA) of OHADA.
This list by The Legal 500 showcases the leading arbitration practitioners
working today in Belgium, the Netherlands, and Luxembourg.
As the editors of this list themselves write about arbitration in the Benelux: "All three countries are jurisdictions with very strong traditions in alternative dispute resolution, enforcement in particular. It is no surprise, then, that the world looks to this region to derive inspiration and guidance on how to ensure that arbitral awards are reliably enforced and upheld. This region has always understood the importance of international cooperation, hosting many important EU institutions and international organisations; it has also reaped the wideranging benefits of global commerce."