Het maartnummer van onze nieuwsbrief "the OFFICI@L – Nr 75", gewijd aan EU-ambtenaren, is zojuist verschenen. Het is zowel in het Frans als in het Engels beschikbaar. Op de agenda deze maand: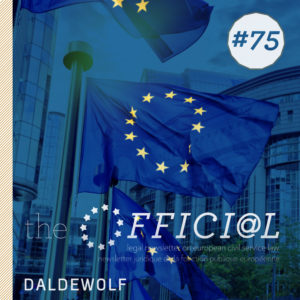 -> Focus op de motivering van het beoordelings/evaluatierapport
-> Rechtspraak: Vormt een weigering om te werken een onregelmatige afwezigheid
-> Belgisch nieuws: De aankoop van een kunstwerk geeft u niet alle rechten
Kijk maar eens!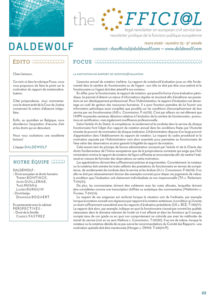 Download the OFFICI@L – Nr 75 – maart 2022
EDITORIAAL van the OFFICI@L – Nr 75 van maart 2022
Dear readers,
This month in the focus section, we propose to take stock of the motivation of the annual appraisal report.
On the case law side, we will comment on the recent judgment of the Court of Justice concerning the notion of irregular absence.
Finally, in the day-to-day life in Belgium, we will deal with the acquisition of works of art and the rights arising from this.
We wish you an excellent reading!
The DALDEWOLF team
the OFFICI@L is een publicatie van het team Europees recht en Mededinging van het advocatenkantoor DALDEWOLF, gespecialiseerd in de Europese en internationale overheidsdienst. Hebben bijgedragen tot de totstandkoming van dit nummer :
the OFFICI@L is een nieuwsbrief die wordt uitgegeven in samenwerking met Renouveau et Démocratie.