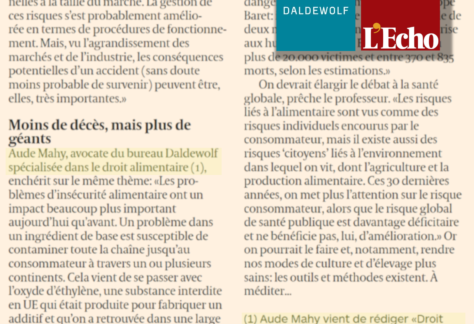 Aude Mahy, partner at DALDEWOLF  specializing in food law, is interviewed in L'Echo on the occasion of the food scandals discovered in recent weeks (salmonella in confectionery, E. coli bacteria in pizzas and listeria in cheeses) .
"Food security issues have a much worse impact today than before. A problem in a basic ingredient is likely to contaminate the entire chain to the consumer across one or more continents. It just happened with ethylene oxide, a substance banned in the EU that was produced to make an additive and has been found in a wide range of foods, which have been subject to recalls. is such that we quickly find ourselves faced with a cross-border and multi-product problem."
It is written in the newspaper that from her experience, Aude Mahy concludes that companies are generally vigilant and that among them, the large ones certainly do not play the game of "not seen, not taken" which is much too dangerous for their reputation. "However, it is not enough to have rules and controls, […] it is also necessary that the workers of each factory have well integrated them. There must be a culture of food safety in each company, for all the workers : this is what the European Regulation on the hygiene of foodstuffs provides, adapted in this sense in 2021."
Finally, the newspaper reports that "for Professor Philippe Baret and lawyer Aude Mahy, the growing concentration of the food industry makes the consequences of accidents greater, while the overall health risk is somewhat little forgotten" and points out that "Aude Mahy has just written "Droit alimentaire, approche pragmatique de la réglementation belge et européenne" which will be published by Larcier in two weeks."
To read the article that was published in the edition of saturday 16 april 2022 of L'Echo: Les cas Ferrero et Buitoni montrent-ils qu'on mange moins sain?