The June issue of our newsletter the OFFICI@L (No. 77), which is dedicated to EU civil servants, has just been published. It is available in English and French.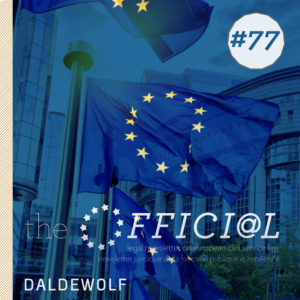 This month:
-> Focus: Personal data of staff and officials: the example of disciplinary data
-> Case law: EPSO competition and language discrimination
-> Family law: The right of a minor child to be heard by a judge in matters that concern him/her
Take a look!
Download the OFFICI@L – No. 77 – June 2022
EDITO of the OFFICI@L – No. 77 – June 2022
Dear readers,
For this last edition before the summer period, we propose to take look at the protection of personal data of EU agents and officials in disciplinary proceedings.
On the case law side, we will elaborate on the recent decision of the General Court concerning the justification of discrimination based on language in the context of EPSO competitions.
With regard to Belgian family law, we will explore the children's right to be heard by the judge.
We wish you an excellent reading and a very nice summer break!
The DALDEWOLF team
the OFFICI@L is a publication of the European and competition law team of DALDEWOLF, a specialist in the European and international civil service.
Contributors to the June 2022 issue:
the OFFICI@L is a newsletter published in collaboration with Renouveau et Démocratie.