DALDEWOLF is a proud sponsor of the next Co-Chairs' Circle (CCC) conference in Brussels from 2 to 4 June 2022. The program can be viewed here: www.cccbrussels2022.com. Partner Marc Dal, head of the Arbitration, Complex Litigation and Mediation team, was Co-Chair of Cepani40 from 2008 to 2012.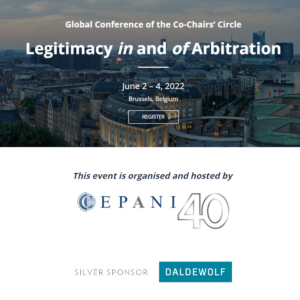 The firm takes this opportunity to congratulate the co-presidents of CEPANI40, Me Sophie Goldman and Me Sigrid Van Rompaey for their considerable work in organizing this event.
"The Co-Chairs' Circle (CCC) is an informal platform for exchanges between groups of young arbitration practitioners. Currently, about thirty young arbitration practitioners participate in the Co-Chairs' Circle (CCC).
More and more groups are founded around the world by young lawyers practicing international arbitration. Most of them operate under the auspices of an arbitration institution, arbitration association or institute.
The younger generation is actively interested in shaping the future of international arbitration. Many young arbitration practitioners around the world are dedicated to building their own practice. This development concerns both international commercial arbitration and investment arbitration.
Given the continued proliferation of young arbitration practitioner groups, it was time to create an informal platform for co-chairs from all organizations to meet and exchange ideas on topics they deem relevant. , to jointly reflect on current trends and team up to have a stronger impact as the young voice of the international community."
The 4th Conference of the Co-Chairs' Circle (CCC), entitled "Legitimacy in and of Arbitration" is organized by CEPANI40 in Brussels, from June 2 to 4, 2022. For the complete program and registration, please visit: www. cccbrussels2022.com.