DALDEWOLF's Corporate and financial law team has assisted Brussels-based medical device company HASA OPTIX, a leading manufacturer of high-quality, recyclable single use ophthalmic surgical instruments and instrument sets, in connection with a commercial partnership with a British pioneering manufacturer and supplier of ophthalmic solutions for cataract and refractive surgery, and the sale of a stake in the Belgian company to the latter.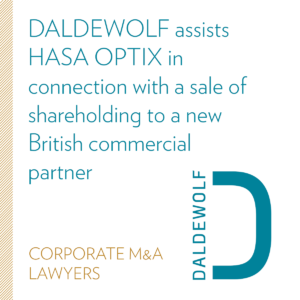 In the press release issued by the new business partner and investor, Eric T'Scharner, HASA OPTIX's CEO, commented,
« We were very impressed by how quickly [our new business partner] has recently expanded and strengthened its commercial presence through building a significant direct sales presence around the world. The partnership will allow us to significantly expand the availability of our high-quality instruments and instrument sets, giving us the best chance of achieving our ambitious growth plans. We are also excited to share our ideas and best practices to increase care quality and better control costs in/of ophthalmic surgery. »
HASA OPTIX surgical instruments will be available from the new business partner in select countries, including the USA, from later this year.
The Corporate and financial law team is co-led by Patrick De Wolf and Fabian Tchékémian, partners from the DALDEWOLF office in Brussels.
The team's activity focuses on the transactional side of the field (private equity, capital market transactions, shareholders' agreements, stock option plans, due diligence procedures, share transfers) and restructuring operations (mergers, demergers, contributions or sales of business branches, conversion into another corporate form).