DALDEWOLF est fier de partager que Marc DAL a été inclus par The Legal 500 dans la Arbitration Powerlist : Benelux 2022 !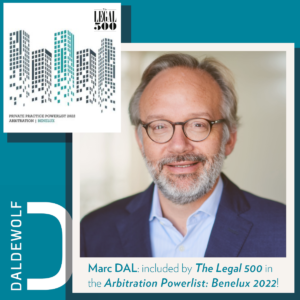 Marc est responsable de l'équipe Arbitrage, litiges complexes et médiation de DALDEWOLF. Ses associés et ses collaborateurs pratiquent avec lui l'arbitrage national et international, tant en qualité de conseils que, pour certains, d'arbitres. Ils sont familiers des procédures arbitrales ad hoc ou menées sous l'égide d'institutions telles que le CEPANI, l'ICC, l'ICDR, le Swiss Arbitration Centre, l'UNCITRAL ou la Cour Commune de Justice et d'Arbitrage (CCJA) de l'OHADA.
Cette liste de The Legal 500 présente les principaux praticiens de l'arbitrage travaillant aujourd'hui en Belgique, aux Pays-Bas et au Luxembourg.
Comme l'écrivent eux-même les éditeurs de cette liste à propos de l'arbitrage dans le Bénélux: "Les trois pays sont des juridictions avec de très fortes traditions en modes alternatifs de  règlement des différends, notamment d'exécution. Il n'est donc pas surprenant que le monde se tourne vers cette région pour s'inspirer et s'orienter sur la  manière de garantir l'exécution et le respect fiables des sentences arbitrales. Cette région a toujours compris l'importance de la coopération internationale, accueillant de nombreuses institutions européennes et organisations internationales importantes ; elle a également pu récolter de nombreux avantages du commerce mondial."