DALDEWOLF promotes Xiufang (Ava) Tu as its newest partner, effective April 1st, 2023.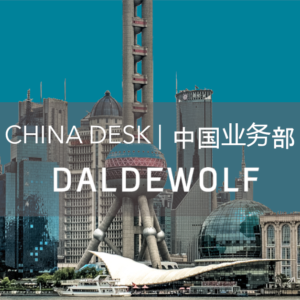 Ms. Tu was a Counsel in the Corporate and Financial Law team and head of DALDEWOLF China Desk.
Ms. Tu started practicing in Shanghai, China, as a PRC qualified lawyer (since 2009), before obtaining full equivalence in Belgium. Prior to joining DALDEWOLF, Ms. Tu worked in several law firms in Shanghai and Brussels, as well as in-house counsel.
Ms. Tu has developed extensive expertise in corporate law, mergers and acquisitions, joint ventures, contracts and transactions involving Chinese and Belgian parties. She also represents European clients before arbitration centres and handles litigation involving Chinese parties. Ms. Tu focuses her expertise on foreign direct investment and cross-border arbitration.
"We are thrilled to welcome Ms. Tu as a partner at DALDEWOLF," said Managing Partner of DALDEWOLF, Patrick De Wolf. "Her extensive experience in cross-border transactions and arbitration, combined with her knowledge, unique in Belgium, of the Chinese and Belgian legal systems, make her arrival a valuable asset for our team, and for the development of our international practice."
Ms. Tu also expressed her excitement of the promotion, saying : "I am delighted to become a partner at DALDEWOLF, and to continue leading the firm's China Desk. I look forward to working with my colleagues to provide the highest level of services to our clients, and to further strengthen the firm's reputation in the Chinese and Belgian legal markets."