Labour law since the pandemic. How to tame teleworking?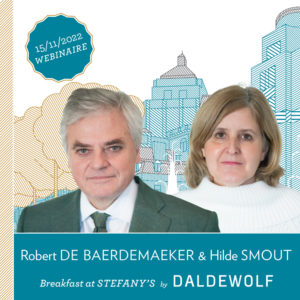 Robert DE BAERDEMAEKER, Of Counsel of DALDEWOLF's Social Law team, will present the November Breakfast at Stefany's and will be assisted by Hilde SMOUT.
Teleworking has undoubtedly become part of our way of life and it has several dimensions that deserve constant attention, as it touches several facets of our existence, mainly private and professional, which is what makes it so interesting.
The questions that arise are multiple and future developments will give rise to an ever-present debate.
In professional relations, telework is a new mode of collaboration with multiple issues.
In this respect, we must not lose sight of the fact that there is a legal framework (the CCT 85) and that teleworking can be structural or temporary.
Specific conditions are foreseen and must be put in place by agreement in order to avoid many worries, but it is also necessary to think about a real teleworking policy by considering all the aspects of it: schedules, risks of discrimination in the absence of objective criteria for access to it, flexibility and evaluation.
Labor law and social security law are omnipresent in the daily life of companies and employees.
For almost 30 years, Robert DE BAERDEMAEKER and Hilde SMOUT have been working together and practicing with interest these two subjects which always have a human dimension. The team that they form therefore meets all aspects of social relations and their experience in the field favours the efficiency of the service they are able to offer.
Robert DE BAERDEMAEKER has been a columnist in social law for the newspaper L'Echo for more than 15 years.
Practicalities
Language : French
When?
Tuesday 15 November 2022
Where?
DALDEWOLF
avenue Louise – 1050 Brussels
Access?
Metro (l. 2/6 stop Louise) – Tram (l. 8/92/93/97 stop Stéphanie) – Car (Interparking Louise-Stéphanie)
Cost : The participation to this event is free of charge but registration before 10th November is mandatory
REGISTRATION
Breakfast at Stefany's
For 6 seasons, DALDEWOLF has been offering you its Breakfast at Stefany's. These breakfasts have become monthly meetings that punctuate the judicial year. Each Breakfast at Stefany's is an opportunity for a specialist lawyer from one of our teams to discuss a topical subject from a legal perspective.
The program for the 2022 season of Breakfast at Stefany's is available via this  link