EU funding for SMEs: which personnel costs category suits best your needs?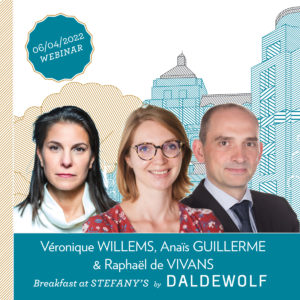 Chaired by Ms. Véronique WILLEMS, Secretary General of SMEunited, this Breakfast at Stefany's will be hosted  by Ms. Anaïs GUILLERME, Counsel within the European law and competition law team of DALDEWOLF, and M. Raphaël de VIVANS, CEO of EFMC Consultants.
EU grants are incredible opportunities for SMEs across Europe, allowing them to realize their ambitions and participate in meaningful projects. SMEs should strive to make the most of this financing.
To this end, the speakers wish to help raise awareness of the specific eligibility rules that apply to SMEs under grant agreements, with a particular focus on staff costs under the research funding scheme of the European Union.
Practicalities
Language : English
Access ?
Once your registration is confirmed, you will be provided with an invitation which can be opened
– via the app Microsoft Teams
– via web browser (Microsoft Edge, Google Chrome, Mozilla Firefox)
Cost : The participation to this webinar is free of charge
REGISTRATION
Breakfast at Stefany's
For 6 seasons, DALDEWOLF has been offering you its Breakfast at Stefany's. These breakfasts have become monthly meetings that punctuate the judicial year. Each Breakfast at Stefany's is an opportunity for a specialist lawyer from one of our teams to discuss a topical subject from a legal perspective.
The program for the 2022 season of Breakfast at Stefany's is available via this  link.