Marc DAL, head of the Arbitration, Complex Litigation and Mediation practice at DALDEWOLF, is pleased to announce the arrival of Arnaud Hoc.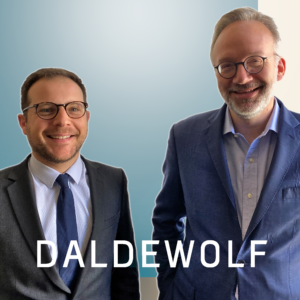 Arnaud HOC is a specialist in procedural matters, particularly in civil and commercial matters. Doctor of legal sciences (UCLouvain, 2018), he teaches judicial law and contract law at the UCLouvain and at Université Saint-Louis in Brussels, and is the author of numerous reference publications, especially in the area of remedies. Arnaud also directs the collection Droit actuel, published by Larcier editions.
Marc DAL: "We look forward to strengthening the excellent position of our team together with Arnaud."
Welcome at DALDEWOLF, Arnaud!
***
DALDEWOLF is a renowned law firm in its areas of expertise: corporate M&A, arbitration, complex litigation, mediation, European Union law, tax law, employment law, insolvency, public and administrative law, food law, construction law and real estate.
With today more than 40 lawyers in its offices in Brussels and Kinshasa, DALDEWOLF has been in tune with the evolution of the world and the needs of its clients since 1958.
At the international level, DALDEWOLF has forged privileged ties with legal and accounting professionals on five continents, who share the firm's values of independence and quality requirements.