The Kinshasa office, established in January 2018, was managed by Romain Battajon until the beginning of this year 2023, in collaboration with a talented team that he helped to build. Romain Battajon has decided to join the ERG mining group as general counsel Africa and will therefore cease his functions within DALDEWOLF, as of 20 January 2023.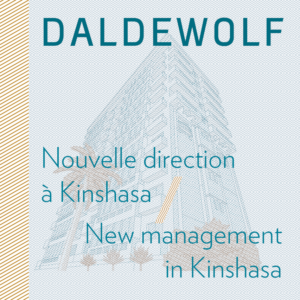 The operational management of the Kinshasa office is now assured by Patrick De Wolf.
He can rely on a strong team of about ten lawyers working in the Kinshasa office, including Valéry-Giscard Mubiala Malela and Guélord Mosau Mbombo, lawyers appointed as counsels in October 2022, who are in charge of the « litigation » and « advice » departments respectively.
The office provides legal assistance to a wide range of private and public clients (multinationals, SMEs, start-ups, NGOs, international institutions, public and semi-public entities, investment funds, the African diaspora in Europe and the European diaspora in Africa).
« The firm's clients' files are in good hands, » says Patrick De Wolf. He adds that « the seamless integration of skills and responsibilities, which is part of the firm's reputation for service, allows for a smooth transition when lawyers leave the firm. » He also wishes Romain « all the success he deserves in his new professional life, after fruitful years spent together to launch the Congolese office of DALDEWOLF and to make it a reference firm in Kinshasa. »