Reduced VAT rate on demolition-reconstruction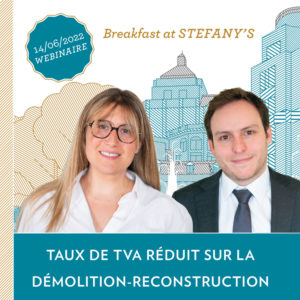 Yaël SPIEGL, partner of the Tax Law team, assisted by Alexander VANDENDRIES, will present this June's Breakfast at Stefany's.
Since January 1, 2021, it has not been possible to benefit from the reduced VAT rate of 6% on demolition-reconstruction work on buildings and on certain deliveries of buildings that have been subject to prior demolition-reconstruction.
In real estate, VAT rules are of paramount importance: they have a direct impact on the cost and therefore on the profitability of your project.
During this seminar, we will review the conditions of application of the 6% VAT regime on demolition-reconstruction applicable since January 1, 2021.
Where and when does the new regulation apply? What is the impact on the profitability of my real estate project? What conditions must be? Does the reduced rate also apply to the resale? What are the long-term consequences? These are just some of the questions to which we will provide concrete answers.
A not-to-be-missed event for real estate professionals and their advisors.
Practicalities
Language : English
Access ?
Once your registration is confirmed, you will be provided with an invitation which can be opened
– via the app Microsoft Teams
– via web browser (Microsoft Edge, Google Chrome, Mozilla Firefox)
Cost : The participation to this webinar is free of charge
REGISTRATION
Breakfast at Stefany's
For 6 seasons, DALDEWOLF has been offering you its Breakfast at Stefany's. These breakfasts have become monthly meetings that punctuate the judicial year. Each Breakfast at Stefany's is an opportunity for a specialist lawyer from one of our teams to discuss a topical subject from a legal perspective.
The program for the 2022 season of Breakfast at Stefany's is available via this  link.