DALDEWOLF is looking for a lawyer to strengthen the tax law (VAT) team in its Brussels office.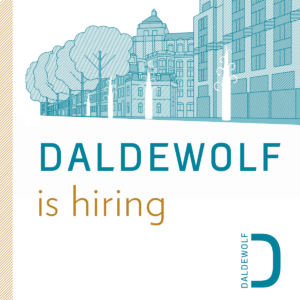 THE FIRM
DALDEWOLF is an independent law firm of international renown, with about forty lawyers in the Brussels office. Since 1958, DALDEWOLF has been covering the needs of its clients in all areas of business law. The firm collaborates with a network of lawyers and legal professionals active on five continents.
DALDEWOLF offers interesting and varied legal work in a pleasant and collegial environment, recently renovated offices, remuneration in line with the market and the profile of the associates, trainings and the opportunity to develop one's career and to perfect one's expertise within a renowned firm, in contact with Belgian and foreign clients.
DALDEWOLF is currently looking for an associate to join its tax law team. This position will involve more specifically the VAT treatment of clients' activities and projects.
THE TEAM
The candidate will work in DALDEWOLF's tax team, which provides tax assistance to companies, public and non-profit entities.  Part of the team deals specifically with the VAT aspects of the firm's clients' activities and projects.
DALDEWOLF has developed a specific VAT practice, covering, among other things, VAT structuring and optimisation, VAT impact of cross-border operations, VAT regime of real estate transactions, and more generally, all matters related to VAT formalities and procedures in Belgium, including representation before the Courts as well as before the competent tax authorities.
QUALIFICATIONS AND EXPERIENCE
Master degree in Belgian law with a specialisation in tax law
VAT practice in Belgium, either in a law firm or in a consultancy firm (big four type)
2 to 5 years of relevant experience in the field of VAT
Qualification to practice as a lawyer in Belgium
Perfect written and spoken knowledge of French and English
Knowledge of Dutch is an additional asset
HOW TO APPLY?
Apply now by contacting Me Yaël SPIEGL via email: ysp@daldewolf.com
Our offices are located avenue Louise 81/5, 1050 Brussels, Belgium.
All applications are treated in the strictest confidence.